Think of your favorite disco hit, heavy metal thrasher, or hip-hop banger and Ali Katircioglu, a music student at Bilgi University, has probably made a cover version of it with the NOISE app. If not, he may be working on it now. The king of NOISE covers has published over 100 loops of classic tracks using Lightpad Blocks and the Seaboard RISE 49, and hundreds of sounds available in NOISE.
The music Ali creates has won the most likes and comments of any contributor to NOISE.fm, the platform for sharing music made with NOISE. His loops have been downloaded over a thousand times by other NOISE creators who want to remix their favorite tunes.
In his home studio in Istanbul, the imposing figures of Daft Punk stare down from a picture on the wall. These heroes of Ali's provide inspiration.
Just like Daft Punk, Ali wants to make music with the most cutting-edge technologies. When he discovered performances of the Seaboard RISE online he had to add it to his studio. "I originally had doubts because of my piano background," Ali says, "but I realized I wanted more expression — just like its inventor Roland Lamb."
When the Lightpad Block and NOISE were released, Ali found a new outlet for his sound. 'It's an incredible feeling to get those sounds, expressions, and dynamic languages from such a small and minimal looking device," he says.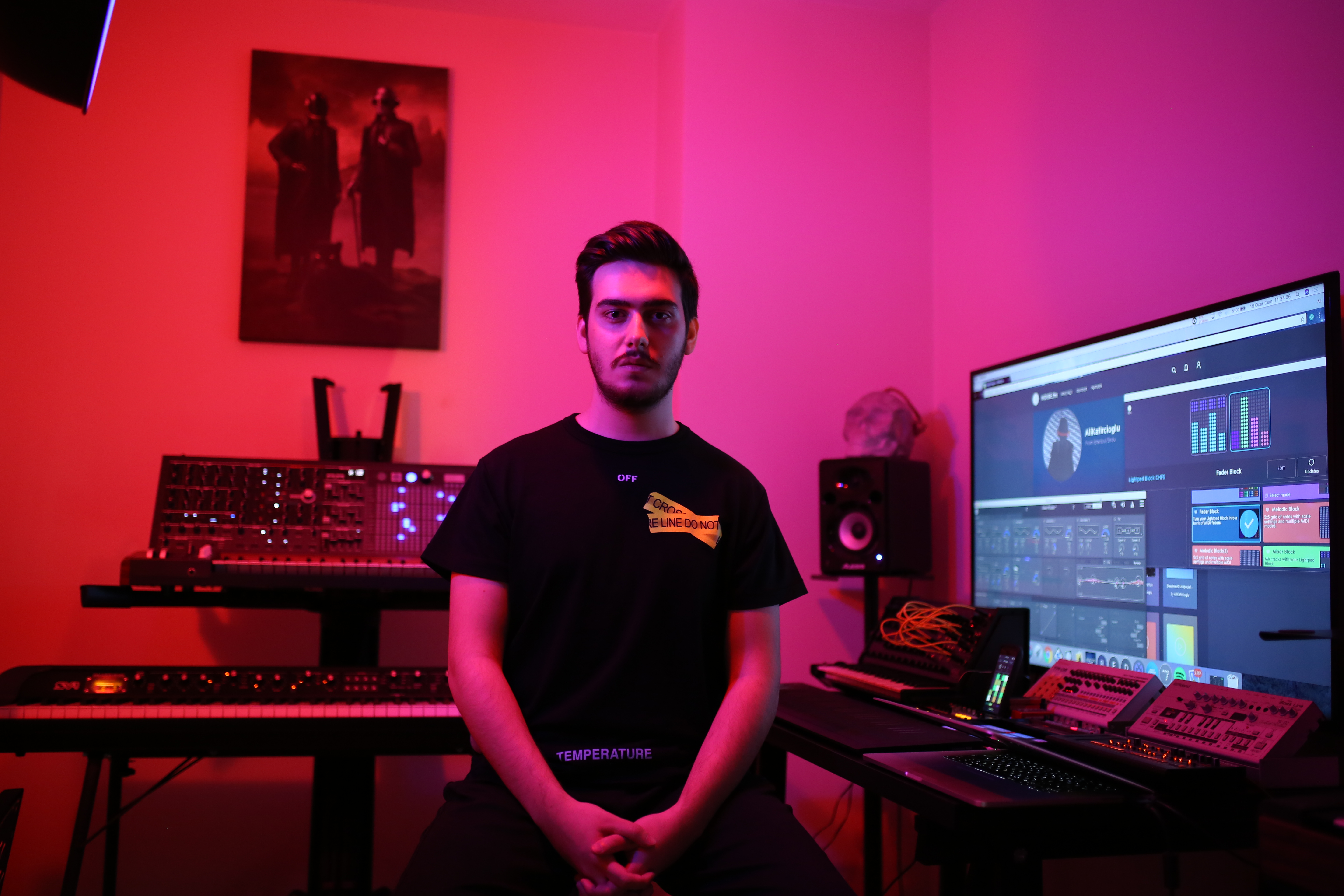 Ali Katircioglu in his home studio in Istanbul.
His father and uncle were members of a Turkish heavy metal band in the 1960s and '70s. Growing up in the Black Sea coastal town of Ordu, he was raised on the sound of his father's favorite vinyl records — Pink Floyd, Deep Purple and Black Sabbath among them.
Ali learned guitar and drums from a young age and performed in garage rock bands. On NOISE.fm, his most popular covers are rock or metal classics like Iron Maiden's The Trooper and Scorpions' Rock You Like a Hurricane.
'But I like all music regardless of genre,' says Ali. 'Whether heavy metal or top 40 pop songs or movie scores, a good tune always attracts my attention. All my covers are songs I've jammed to or had a good memories with. I guess noise.fm is becoming a huge playlist of my favorite memories!'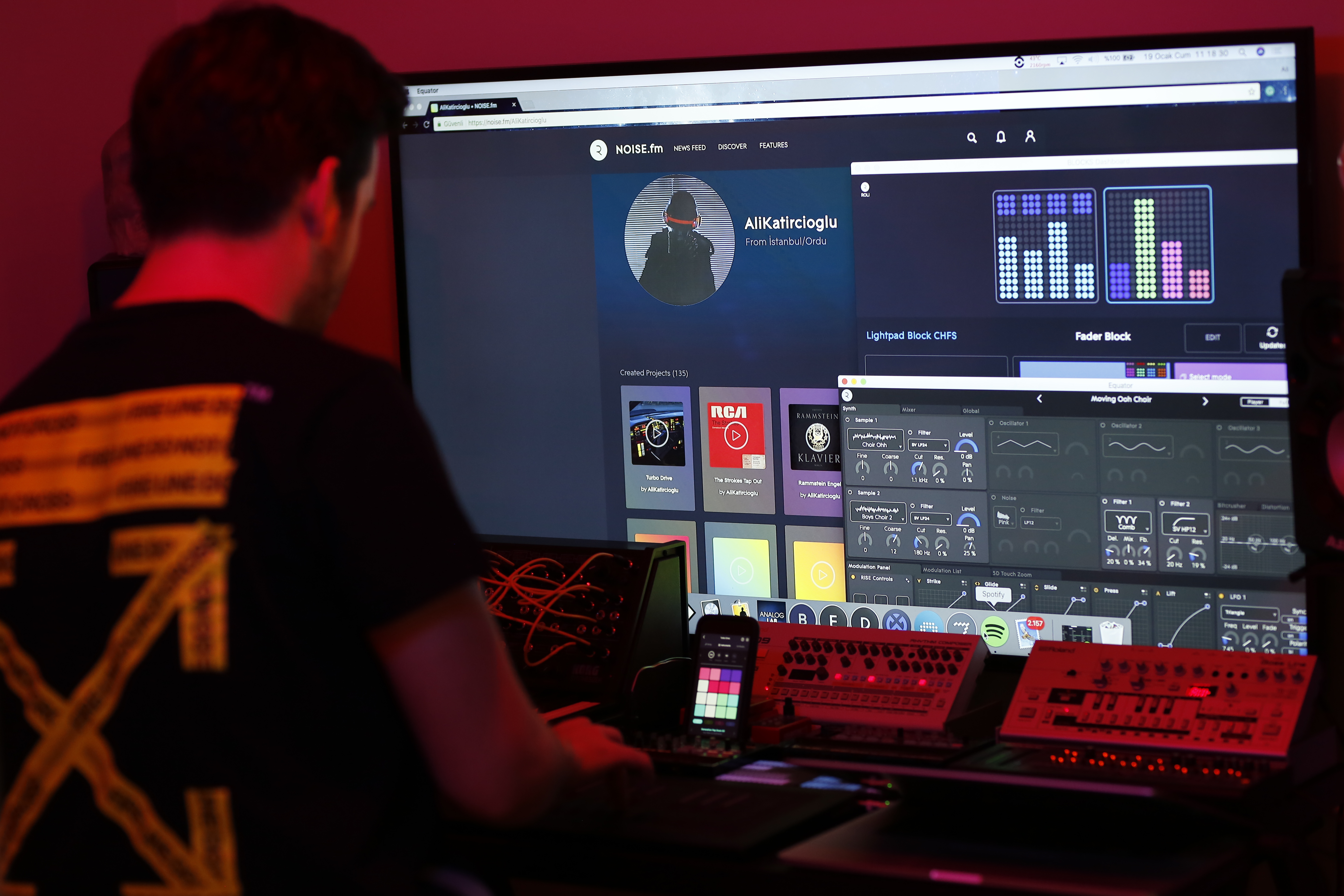 Ali creates in his home studio with NOISE, Equator and BLOCKS Dashboard.
How does Ali produce such accurate covers? Being a talented multi-instrumentalist helps develop a good sense of all parts in each track. 'It's also been useful being familiar with NOISE from the start, so I've been able to explore each new soundpack as it's been released.'
Ali's first cover — Howard Shore's Concerning Hobbits from the Lord Of The Rings score — featured the expressive Breath Flute sound from first NOISE soundpack: Fundamentals. Fast forward a year and there are hundreds more sounds to choose from, including Ali's favorites: Tirreno, a "clean guitar sound" from the Salerno Sonics by PARISI soundpack, and Heavy Bottom from Wizardly Wayz by Jordan Rudess.
'Now there are realistic acoustic instruments in NOISE from Audio Modeling, it's like having an orchestra that fits in your pocket."
There's one more essential ingredient that keeps Ali motivated to release NOISE projects: the likes and supportive comments from his followers!
Ali releases his own music too on his noise.fm account. He wants to be a producer and a composer after graduating from university, and he is currently learning turntablism and film scoring. If his own music glows like the cover loops he's making on NOISE.fm, has a bright future.
Hear all of Ali's cover versions on NOISE.fm.