Picture the scene earlier this year, when 12,500 people gathered in the Mediolanum Forum in Milan, to see Italian rock royalty perform. The lights dimmed, and an atmospheric solo performed on the Seaboard RISE 49 filled the cavernous room. A guitar and drums joined in the fray, and in an instant the whole crowd are singing along to an emotional anthem.
This is Litfiba, one of Italy's most iconic bands, and masters of head-banging live performances. The rock legends have never been content to just play the old classics. They're always pushing boundaries by using the latest musical instruments and the newest sounds.
Like their home city of Florence, Litfiba have a long history. Since their formation in 1980 the band's sound has evolved from one influenced by British New Wave indie music towards heavier Mediterranean-style rock. Two elements however, have always remained a constant — the crunchy riffs of guitarist Ghigo Renzulli and the distinctive vocals of Piero Pelù.
Their latest tour marked their 37th year of performing live. Classic material from the 1980s and 1990s was updated and added to the set-list alongside tracks from, Eutòpia (2016), their most recent album. Eutòpia features songs with an expansive production, incorporating instruments that go far beyond the scope of a usual rock band. Recreating sounds spanning different eras, instruments and styles in a live setting required a lot of gear and musical talent.
Litfiba perform 'Fata Morgana' at the Mediolanum Forum, Milan.
To pull off their most ambitious tour to date, Litfiba enlisted the help of keyboardist Fabrizio Simoncioni, who first worked with them as an audio engineer for their 1990 album El Diablo. Fabrizio took plenty of instruments around Italy with the band, including a standard piano keyboard, a double Clavia Organ played through a Leslie Speaker, and a Seaboard RISE 49. Combining a Seaboard with an old-school rock organ sound meant that Litfiba's older songs could be revitalised, while still retaining their original soul.
Fabrizio first thought of adding the Seaboard to his set up when Ghigo and Piero asked him to play a live intro to the song "Fata Morgana". On the recording, the introduction was performed on a sitar. As an Eastern instrument that relies on microtonal pitch bends for its distinctive expression, the sitar cannot be replicated on a traditional piano keyboard. "I imagined the Seaboard was the one and only instrument to recreate a magical sound landscape for that song," explained Fabrizio. "I was right. Every concert I improvised on the RISE 49, using Glide and Slide features to emulate the sitar. The crowd goes crazy for that."
Fabrizio Simoncioni improvises with the Seaboard ahead of a Litfiba performance.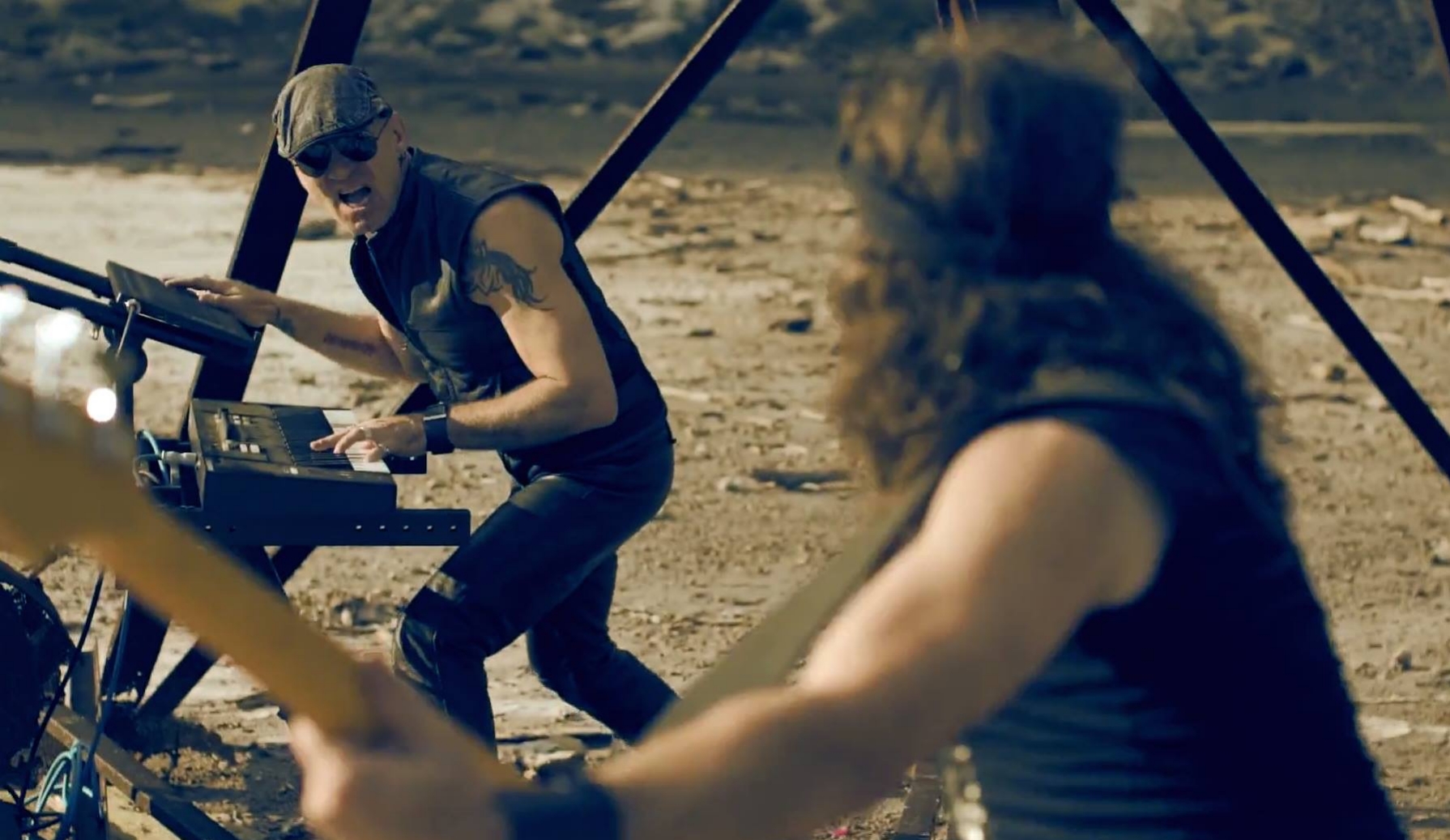 Fabrizio Simoncioni rocks out with the Seaboard RISE 49 in Litfiba's video for the single "L'impossibile."
The Seaboard soon became one of the highlights in the Litfiba tour, which rocked cities including Florence, Padua, Milan and Rome. Fabrizio's improvisation got the crowd going, but many of those enjoying the show were not quite sure how the sound was made. "Plenty of the audience thought that the Seaboard was a kind of theremin. But other musicians recognised it and they all wanted to know what it was like. It's almost impossible to explain the feeling of playing a Seaboard — but I'd often answer that it's like having sex with your synth!"
Litfiba perform 'Il Volo' in 1991, from the album El Diablo. Fabrizio first met Litfiba as a sound engineer for the album.
Despite all of Fabrizio's experience performing live, touring still threw up some unexpected challenges. "On our first show, when I had to perform my introduction, the lighting director at the venue decided to create a dark atmosphere. But the Seaboard is almost black! Can you imagine what I felt when I saw my RISE become completely invisible under my fingers? Luckily I already had my hands over the right keys and had rehearsed so many times that I could perform the introduction blind. But it was a close call."
With production accolades that include 57 platinum records and a Latin Grammy nomination, Fabrizio approaches live performance from a unique position. "Being a mixing engineer makes you very critical in terms of arrangement. I always try to put my hands only where the song needs them, into where nobody else is playing. I am not a soloist nor a deep technical keyboardist. I just put my feeling and taste at the service of the song."
"This works perfectly in a rock band," says Fabrizio. "So my personal advice to the aspiring rock keyboardist is this: do not exaggerate! Usually guitarists have that role in rock music. Remember that less is more!"
Follow Simon Fabrizio on Facebook and get the latest Litfiba news from their website here. Watch the video for Litfiba's latest single "L'impossibile" below, featuring Fabrizio Simoncioni and the Seaboard RISE 49: